More info
Transformator
All Tube pre amplifier and D.I. box for Bass Guitar
The transformer guarantees your signal is always in studio-quality, whether recording at home, in rehearsal, on club stage, or on tour.
Today's available options allow you to modify, shape, and enhance your instrument's sound in any way possible.
The outcome, however, is dependent on the signal quality at the start of the signal chain, where the transformer establishes a solid base for your sound production.
Please find more detailed information here !
Spezification :
Hardware :
with  x height x depth : 195x90x120mm
weight 1,2kg
color coated aluminum housing
two ECC82/12AU7 tubes
full-metal alumnium knobs anodized
full-metal potentiometer shafts
1/4″ Input + Line Out Switchcraft full-metal
XLR connector + Transformator OUT Neutrik
transformer JENSEN made in USA Mu-metal shielded
DALE extrem low noise resistors + WIMA foil capacitors
very low signal output impedance  ; on the XLR and Line Out for very long cable runs to a mixer, audio interface or stage amplifier without any loss of sound quality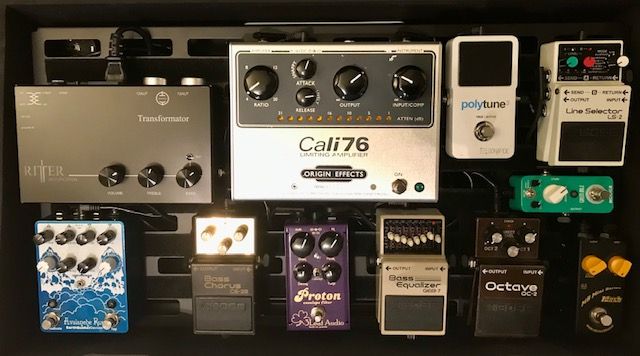 Electrical data :
volume boost Line Out +10dBV
0dB to +4dB unbalanced Line OUT
output impedance Line Out 300Ohm
linear frequency response 10Hz-19.000Hz -1dBV/0dBV
Bass Cut -6B@65Hz
two band center frequency @300Hz boost +15dBV and 400Hz cut -11dBV
treble knob center frequency 600Hz cut and 200Hz boost /  3dB/octave
bass knob center frequency 200Hz cut and 280Hz boost / -3dB/octave cut ; +4dB/octave boost
signal noise ratio >86dB
nominal signal level +4dBu balanced / unbalanced behind XLR-transformer
output impedance XLR OUT 200Ohm @ 1okOhm (input impedance of following equipment) 
supply 230V AC / 50Hz / 9 watts
All product photos on this page are made by Mr. Alex Henke, thank you  !